Gap Filla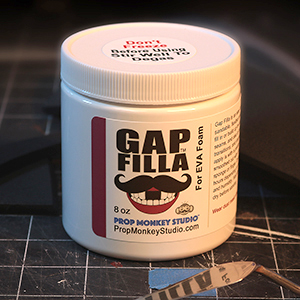 Gap Filla for EVA Foam
Gap Filla: is an easy-to-apply, non-toxic, sandable/wet sandable, flexible professional gap filler for EVA foam. Designed to fill in cracks, gaps, and seams, and also to build up edges, transitions, and shapes.
Click here to buy Gap Filla at TNT Cosplay Supply
Click here to buy Gap Filla at Red Moon Cosplay Solutions
Directions:
• For best results stir to de-gas.
• Dop not freeze product.
• Make sure surface is free of dust, dirt, and oil.
• Best way to apply is with a palette knife.
• Apply in moderate temperature 60˚f to 80˚f (15˚c to 25˚c)
• Can be smoothed out with a wet finger.
• Dries in 1-24 hours depending on depth
• Wait till Gap Filla is fully dry before sanding.
• Wait 12 to 24 hours before wet sanding.